Subscribe to our Question of the Week:
Please note - by this article, we are not claiming that all who are involved in Freemasonry are cultists, or that all Freemasons believe all the items mentioned below. What we are saying is this - Freemasonry at its core is not a Christian organization. There are many Christians who have left Freemasonry after discovering what it is truly all about. Please visit Ex-Masons for Jesus for more information. There are also good and godly men, true believers in Christ who are Freemasons. It is our contention that this is because they do not truly understand Freemasonry. Each person should pray for wisdom and discernment from the Lord as to whether to be involved with Freemasonry. This article was reviewed and approved for accuracy by a former Worshipful Master of a Blue Lodge.
Question: "What is Free Masonry and what do Free Masons believe?"
Answer: Freemasonry, Eastern Star, and other similar "secret" organizations appear to be harmless fellowship gatherings. Many of them appear to promote belief in God. However, upon closer examination, we find that the only belief requirement is not that one must believe in the True and Living God, but rather, that one must believe in the existence of a "Supreme Being", which includes the "gods" of Islam, Hinduism, or any other world religion. The unbiblical and anti-Christian beliefs and practices of this organization are partially hidden beneath an outward appearance of a supposed compatibility with the Christian faith. The following is a comparison of what the Bible says with the "official" position of Freemasonry:
Salvation from Sin:
The Bible's View: Jesus became the sinner's sacrifice before God when He shed His blood and died as the propitiation (payment) for the sins of all those who would ever believe (Ephesians 2:8-9, Romans 5:8, John 3:16).
Mason's View: The very process of joining the Lodge requires Christians to ignore the exclusivity of Jesus Christ as Lord and Savior. According to Freemasonry, a person will be saved and go to heaven as a result of his good works and personal self-improvement.
The View of the Bible:
The Bible's View: The supernatural and plenary inspiration of the Scriptures—that they are inerrant and that their teachings and authority are absolute, supreme, and final. The Bible is the Word of God (2 Timothy 3:16, 1 Thessalonians 2:13).
Mason's View: The Bible is only one of several "Volume(s) of Sacred Law, " all of which are deemed to be equally important in Freemasonry. The Bible is an important book, only as far as those members who claim to be Christians are concerned, just as the Koran is important to Muslims. The Bible is not considered to be the exclusive Word of God, nor is it considered to be God's sole revelation of himself to humankind; but only one of many religious sourcebooks. It is a good guide for morality. The Bible is used primarily as a symbol of God's will, which can also be captured in other sacred texts, like the Koran or Rig Vedas.
YOU MIGHT ALSO LIKE
Egyptology and Freemasonry, proving the bible with Hear O ...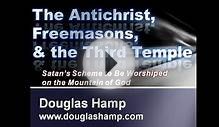 Antichrist, Freemasons, and the Third Temple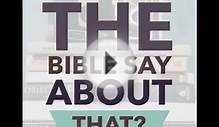 The Bible Does NOT Even Call US Christians and Freemasonry ...
Share this Post