What's the truth concerning the present official attitude from the Catholic Chapel toward Freemasonry? To do this inquiry into what has become essentially, we ought to return to that which was mentioned within the Church's canon law before there is question about in which the Chapel was on Masonry. The previous code (which, incidentally, was promulgated on Pentecost, May 27, 1917, just two days after Our Lady's first apparition at Fatima) contained a canon which certainly assigned all of the previous papal condemnations from it. Canon 2335 reads the following:
Persons joining associations from the Masonic sect or any others of the identical kind which plot from the Chapel and legit civil government bodies contract excommunication simply reserved towards the Apostolic See.
Within the wake from the Second Vatican Council, however, once the revision from the Code of Canon Law was going ahead, the current spirit of "ecumenical dialogue" motivated questions among various bishops whether or otherwise Canon 2335 was still being in pressure. Reacting to those questions, instructions from Cardinal Francis Seper, Prefect from the Sacred Congregation for that Doctrine from the Belief, towards the presidents of all of the episcopal conferences, dated This summer 18, 1974, mentioned that: (1) the Holy See has frequently searched for information in the bishops about contemporary Masonic activities directed from the Chapel (2) there won't be any new law about this matter, pending the revision from the Code now going ahead (3) all penal canons should be construed strictly and (4) the express prohibition against Masonic membership by clerics, religious and people of secular institutes is hereby reiterated.1
This rather awkwardly structured letter (which, for reasons uknown, wasn't released within the the state journal of record for that Holy See) found be construed in lots of quarters as permitting membership by laymen in almost any particular Masonic (or similar) lodge which, within the judgment from the local bishop, wasn't positively plotting from the Chapel or legitimate civil government bodies.
This situation, by which unquestionably a good quantity of Catholics in good belief grew to become Masons, survived for many years. Then, on Feb 17, 1981, Cardinal Seper released a proper declaration: (1) his original letter didn't by any means alter the pressure from the existing Canon 2335 (2) the mentioned canonical penalties are by no means abrogated and (3) he was but remembering the overall concepts of interpretation to become used by the neighborhood bishop for solving installments of individual persons, which isn't to state that any episcopal conference presently has the competence to...
YOU MIGHT ALSO LIKE
The Roots of Ritualism in the Church and Masonry pt 2
The Secret Order: Catholic and against Freemasonry Universal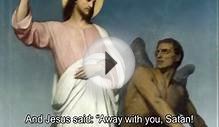 Masonry and careerism in the Church
Share this Post